What is XSL?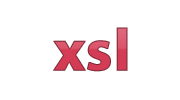 Extensible Stylesheet Language (XSL) is used to refer to a family of languages used for transforming and rendering XML documents.
The XSL Working Group at the W3C produced a draft specification under the name XSL, which eventually split into three parts:
XSL Transformations (XSLT) an XML language for transforming XML documents.
XSL Formatting Objects (XSL-FO) an XML language for specifying the visual formatting of an XML document.
XML Path Language (XPath) a non-XML language used by XSLT for addressing the parts of an XML document.
XSL Essentials - W3C
XSL Family | XSL 1.1 | XSL Transformations (XSLT) | XPath 1.0
Getting Started
XSL References
Recommended Reading

The updated edition of this book offers practical, real-world examples that demonstrate how you can apply XSLT stylesheets to XML data using either the new specification, or the older XSLT 1.0 standard. Want to find out how the 2.0 specification improves on the old? This book will explain.
See also: XSLT Cookbook, Second Edition
Assorted Articles About XSL & XSLT
See also: XML
---