What is XHTML?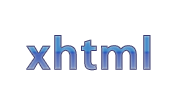 Extensible Hypertext Markup Language, or XHTML, is a family of XML markup languages that mirror or extend versions of the widely used Hypertext Markup Language (HTML), the language that web pages are written in.
While HTML (prior to HTML 5) was defined as an application of Standard Generalized Markup Language (SGML), a flexible markup language framework, XHTML is an application of XML, a more restrictive subset of SGML. Because XHTML documents need to be well-formed, they can be processed using standard XML tools—unlike HTML, which requires a relatively complex, lenient, and generally custom parser. ( More info... }
XHTML Essentials - W3C
XHTML 1.0 | XHTML 1.1 | XHTML 2.0
Why XHTML?
Getting Started
Recommended Reading
Put everthing you need to know about HTML and XHTML at your fingertips. For nearly a decade, hundreds of thousands of web developers have turned to HTML & XHTML: The Definitive Guide to master standards-based web development. Truly a definitive guide, the book combines a unique balance of tutorial material with a comprehensive reference that even the most experienced web professionals keep close at hand. From basic syntax and semantics to guidelines aimed at helping you develop your own distinctive style, this classic is all you need to become fluent in the language of web design.
Assorted Articles About XHTML
The articles have been broken down into the following categories:
DocType
MIME (& Serving XHTML)
Miscellaneous Articles
XHTML 2.0
---